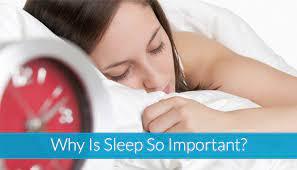 Sleep is a necessary function for your body to get the rest it needs. A good night's sleep allows your brain to recharge, store memories, and process information. 
Sleep also helps the body fight diseases, heal, and grow. Without enough sleep, your immune system won't work as effectively as it should, making you vulnerable to getting sick. In addition, sleep greatly affects your brain's learning and memory functioning. 
Not being able to fall asleep can be an indicator that you're not getting the proper nutrients your body needs to maintain optimal health. There are plenty of delicious and nutritious foods you can eat to sleep better at night! Foods that can help you fall asleep at night include:
Turkey
Almonds
Fish
Kiwi
Chamomile Tea
White Rice
Cherries
Not being able to fall asleep can also indicate that you may have an inconsistent sleep-wake cycle. Without a regulated sleep-wake routine, your body won't know when to begin its winding-down process. 
If your body doesn't know when bedtime is, it won't know when to release sleep hormones like melatonin, which could be the reason why you're having trouble falling asleep! Click here to learn more about your sleep-wake cycle and circadian rhythm.
If you thought we were done listing all the tips and tricks to get a better night's sleep, you thought wrong! In addition to food, there are also plenty of drinks out there that can help you fall and stay asleep.
Keep reading to find out the best beverages you can drink to help you sleep at night.