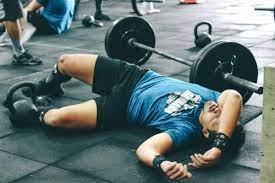 To understand how insufficient sleep impacts muscle gain, we must first understand the body's process for muscle growth and repair. In order to repair your muscles, your body needs energy.
When you're fast asleep, your body uses glucose that it stores in your muscles known as muscle glucose in order to replenish and grow your muscles. Consequently, if you don't get enough sleep, your body can't maximize its muscle glucose replenishment.  
In addition, muscle glucose replenishment isn't the only reason you need a sufficient amount of sleep to gain muscle. Human growth hormone plays a critical role in muscle growth and recovery. 
Like muscle glucose, the human growth hormone predominantly does its job while you sleep. As you can see, if you don't get a sufficient amount of sleep each night, it won't matter how many hours you put in at the gym.
Not only does insufficient sleep not maximize your muscle gains, but it actually hinders your muscle gain. If you don't get enough sleep at night, your muscles will shrink. That's right. In order to acquire the most muscle mass, you need to get a good night's sleep!
But exactly how much sleep is enough sleep? Let's discuss how much sleep you need for muscle gain below.