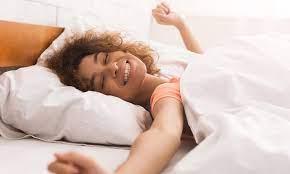 Getting a good night's sleep is critical when it comes to staying focused throughout the day. But how can going to sleep early help you stay focused?
Well, going to sleep early helps your cognitive functioning. In other words, if you get a good night's sleep, it will be that much easier to maintain focus throughout the day.
Sleep is necessary for your body to get the rest it needs. A good night's sleep allows your brain to recharge, store memories, and process information. In other words, sleep plays a significant role in our ability to wake up focused and motivated to take on the day.
Additional health benefits of getting a good night's sleep include:
Reduced stress
Think clearly
Improve the quality of life
Get along with people better
Make fewer mistakes
Decreased risk of auto accidents
Decreased risk of heart disease
Decreased risk of mental health disorders
As you can see, sleep is crucial in regard to functioning properly throughout the day. In other words, if you can get a good night's sleep, staying focused will become second nature!
If you struggle to get a good night's sleep, click here to learn about what you can do to sleep through the night and wake up feeling well-rested. You can also check out NightCap, a delicious and all-natural evening cocktail made to help improve your quality of sleep.
In addition, sleep greatly affects your brain's learning and memory functioning. 
One of the most important phases of your sleep cycle is known as REM sleep. REM sleep is the deep-sleep phase of your sleep cycle. But what is REM sleep?