Article Content
Should I Skip Class? (Yes & No)

You've probably asked yourself this question more times than you can count - and if you're reading this, you probably want to skip class today. 
As much as you'd like me to say "f*ck it, turn off your alarm and go back to sleep!" it's not that simple. 
Coming from a guy who's skipped more classes than he's proud of admitting - and suffered the consequences - I'm going to talk about the pros and cons of skipping class in college. 
But if you want the short answer:
Skipping class in college is fine on occasion, but if it turns into a regular habit, your GPA will likely suffer, which is a waste of your time and money.
It's important to weigh the pros and cons of skipping class on any given day, and generally speaking, you should attend. 
We're going to dive into a bit more detail in the rest of this post.
And if you want to skip an early morning class because you can't get up, we've got your back there too.
You'll learn the 3 secrets to wake up early feeling great, and ready to get sh*t done. 
What Happens if You Skip Class in College?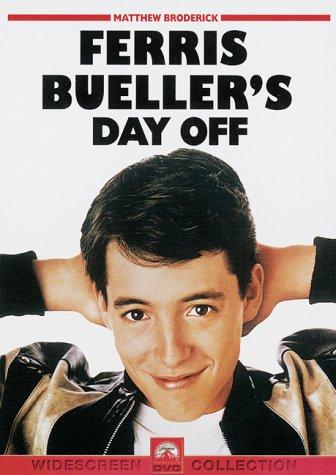 After graduating high school - where I used to skip class all the time - I was wondering if that would fly in college. 
My high school only allowed three or four 'unexcused absences' per semester before you started getting in trouble, and enough absences could cause you to automatically fail. 
However, a parent's note usually excused you from school for almost any reason. This rule came in especially handy once I guessed my mom's email password, and could email the school to excuse my absences on a weekly basis.
Couple that with my dad's empty house during the day (they were divorced) and you can see why I skipped class regularly. 
For the record, I still passed with a good GPA in AP classes , but I often skipped class.
If you're still in high school though, go to class. Do as I say, not as I do. There are truancy laws that mandate high school attendance for minors.
College is like high school in many ways, but it's ridiculously expensive, your parents aren't there, and the liquor stores in the area don't ask for ID. 
In college, however, you pay for your education which is no longer required by law, and you're legally an adult, so skipping class is far less frowned upon by the school. Truancy laws don't apply, and nobody will force you to go to class.
It depends on your college and more importantly, your professor, but in my experience, 99% of college professors don't give a damn about attendance. 
You can show up late every day, or not at all, or hungover. I only had a few professors that cared about attendance, and even then, skipping class wasn't a big deal. 
If you're in a big lecture hall, they won't even notice, but in a smaller class, it's probably best to let your professor know about it. 
Since you're technically an adult in college, nobody holds your hand or forces you to go to class. It's your responsibility.
But just because you're allowed to skip class doesn't mean you should. Skipping on a regular basis definitely has negative consequences. 
First of all, skipping class is expensive. You're paying for these classes, and you can break down the exact price of each class with some basic math. 
Assuming your school has a flat tuition cost per semester and you're taking five, 3-credit classes, it's easy to calculate the cost per class. 
If each class meets three times per week for a 16-week semester, and you're paying $4,000 a semester, that's about $266.67 per credit. If you have 48 classes for each course, that's about $16.67 per course.
And factoring in student loan interest increases that number as well. 
Still, not every class is important to attend, especially if your professor isn't covering any important material. Conversely, you don't want to miss a class going over test material. Timing is important here. 
But you're not really paying for the class material, you're paying for the degree, which shows employers that you'll be a good employee.
You're paying to sit in class and take tests so you can get a degree. Otherwise, you could learn the same things for free online. 
In fact, Harvard has a ton of their classes online for FREE, but if you want the degree, you'll have to cough up tuition money. 
Going to college is an investment in your future. You need to make sure you'll earn more than you would without a college degree to have a positive return on investment and justify the decision. 
With that perspective, the importance of going to class becomes more evident.
Missing class too often may result in you:
1. Missing or failing a test which could lower your GPA
2. Missing important material that will impact your performance
3. Absolutely nothing 
Skipping class isn't always a bad idea, especially if you're skipping for a good reason. 
When Can You Skip Class in College?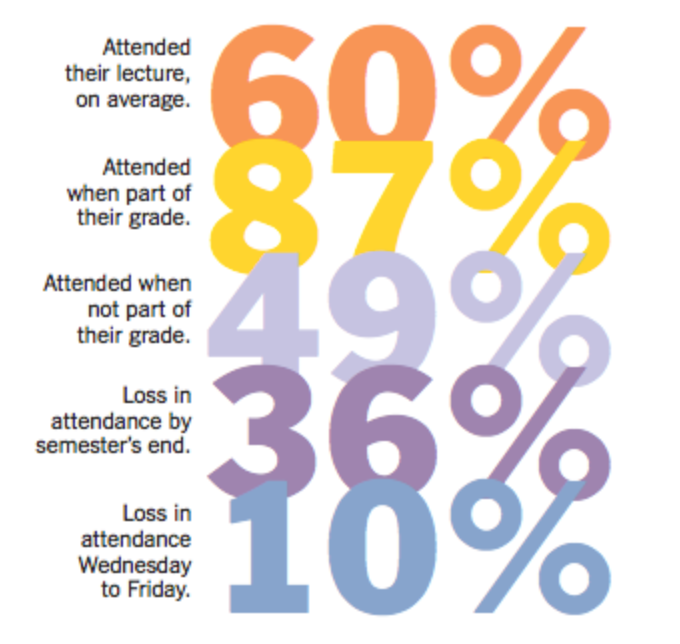 You should consider what there is to gain from skipping class.
If you're bailing on class because you're super hungover again and would rather play video games, that's probably not a good idea. 
On the other hand, if you want to skip to attend an awesome conference where you'll network and meet new people, that's probably a much better reason. 
You can even use the math we talked about earlier and look at it from an ROI perspective.
Are you going to skip class for something of more value than $25, or is it because you're lazy?
I skipped class in college, but it was far less often than high school.
I learned early on that in college (and in life) 90% of the fight starts with showing up. If you show up to class, get enough sleep and study regularly, you'll do well in college. 
Most people who flunk out of school go crazy, and sacrifice class for parties and booze.
College weeds out those people so only those who are at least responsible enough to pass will graduate. 
Still, sometimes skipping class is totally okay.
For example, I had a Calculus 2 professor who didn't speak English, and rambled for two straight hours while writing on the board.
Needless to say, I didn't understand a thing he was saying. 
He only graded labs - which were posted online - and exams. After the first few classes, I only went to take tests and turn in labs.
Shout out to Professor Leonard on YouTube who taught me Calculus 2 in college.
Slight rant, but I can't believe I paid a lot of money to teach myself calculus on YouTube for free, just to pass a class for a degree that had nothing to do with Calculus...
Anyway, you have to weigh the pros and cons of skipping class. Generally speaking, skipping class because you're lazy is a bad idea if you want to graduate. 
Don't do it so you can play video games or get drunk. But if you have more productive things to do during that time - and you won't miss much - skipping class once in a while isn't a big deal.  
If you are going to skip class, make sure you:
1. Copy notes from a friend and have them fill you in on what you missed
2. Keep up with your work 
3. Do the assigned reading and brush up on the material 
4. Check the class syllabus so you don't miss a quiz, test, etc. 
5. Email your professor to make sure you're on the same page. 
Back in my freshman year of college, the girls in the dorm next to mine liked to party and would often go does - even a whole week - without attending a single class.
I recall one of them saying to the other "alright, this week let's try to attend at least one class on time."
That didn't work out, and one of them dropped out. Believe me, they weren't skipping to be more productive. 
Discover the
"

Cheat Code

"

to Waking Up Early

The EarlyBird Morning Cocktail
Can't Wake Up On Time for Class?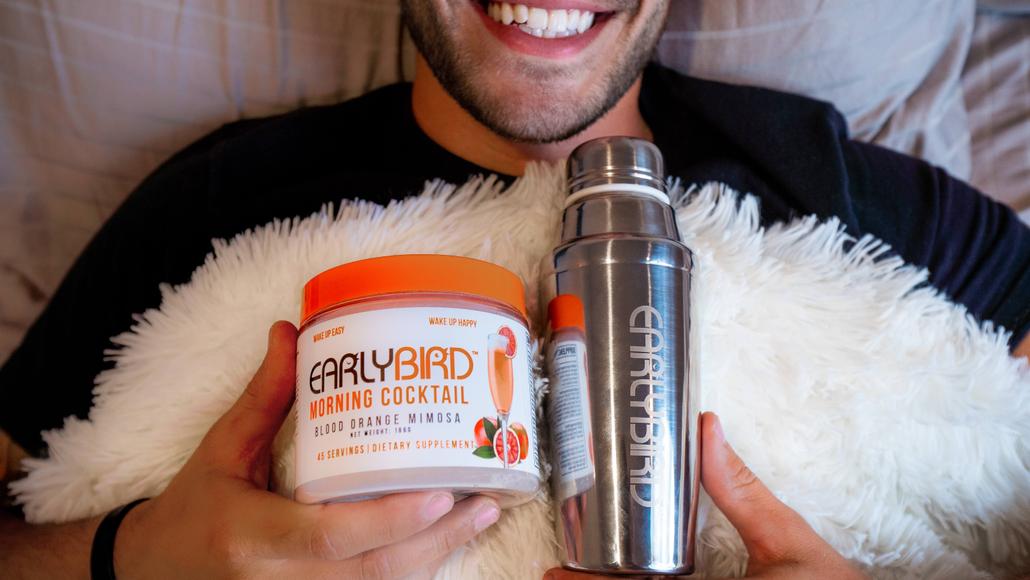 First of all, you might want to check out our posts about studying in the morning vs at night, how to be more productive in college, and our post about surviving 8 AM classes. 
Now, we're about to let you in on a little secret.
Actually, it's more like three secrets. These three keys will finally help you wake up early feeling great, ready to take on the day. No BS. 
After months of tireless research, testing, and experimenting, we discovered the three secrets to waking up early without feeling tired and groggy. 
1. Hydration 
Making sure your body is hydrated first thing in the morning is essential. 
Drinking water is a good start, but giving your body electrolytes is the best way to nourish your body with 'supercharged hydration' when it needs it most.
2. Fast-absorbing, Long-lasting Energy
When your car is left out in the freezing cold, it needs a jump start to get going. Your body is the same way. 
Your brain goes into sleep mode overnight, and your muscles relax. That's why giving your body a fast-absorbing source of energy is crucial. Otherwise, you'll be stuck feeling groggy, sluggish, and tired. 
But you don't just want a quick boost followed by a crash - the fast-absorbing energy also needs to be long-lasting, so you can get sh*t done all day without hitting a wall. 
3. Mood Enhancement
Your morning mood has been proven to affect the rest of your day - waking up hydrated and energized is excellent, but it won't help if you're pissed off and angry before you even get out of bed. 
EarlyBird makes use of the perfect combo of 3 Nootropic Blends that gives your body energy, motivation, and everything else you need to have a kick-ass study session (and day). 
The powerful blend of electrolytes hydrates you insanely fast - it's essentially supercharged water.
EarlyBird also has a ton of natural, clean energy ingredients from fruit and veggie extracts, which make the snooze button a thing of the past. 
So yeah, you can spend many more months hating your mornings, or you can check out EarlyBird by clicking here, wake up early, and get sh*t done.