Article Content
How to Wake Up Early for Heavy Sleepers (Foolproof)

Here's the deal:

If you're a heavy sleeper, you don't go together with waking up early in the same sentence. 
Everyone knows the early bird gets the worm, early mornings are the most productive, etc. 
Time and time again you set your alarm bright and early and go to bed, excited to finally go from being a night owl to an early bird. 
But then your alarm goes off, you're groggy, tired, in a bad mood, and most definitely not excited about leaving your warm bed. 
Instead of actually waking up early, you hit snooze and go back to sleep, only to feel guilty about not actually waking up early time and time again.
You try again the next night, telling yourself you're for real this time, but the cycle repeats itself. 
If you find yourself hitting snooze every morning - or maybe you're such a deep sleeper, a normal alarm doesn't even wake you up in the first place - but you want to wake up early, you're in the right place.
Today, we're talking about how to wake up bright and early, even if you're a heavy sleeper. 
How Do You Force Yourself to Wake Up Early?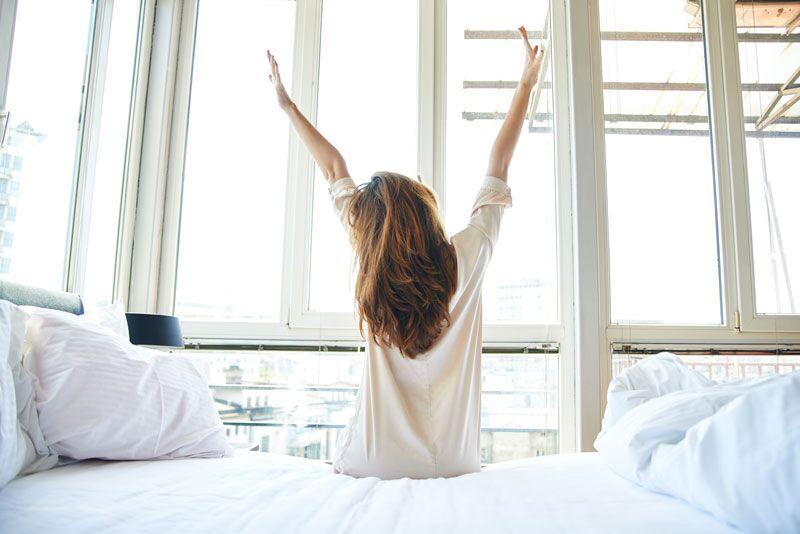 You don't, plain and simple.
I'm not a fan of the "force yourself to accomplish x, y, z" goal. If you're too focused on the end result, but the journey makes you absolutely miserable, you're on the wrong path. 
Forcing yourself to do something usually doesn't work. I forced myself to wake up at 5 AM one morning, hated it and returned to my normal sleep-in routine. 
But one I started drinking EarlyBird and actually enjoyed waking up early, it became something I actually look forward to every morning. 
You're going to learn how you too can look forward to your mornings, wake up early, and get sh*t done with the power of habits.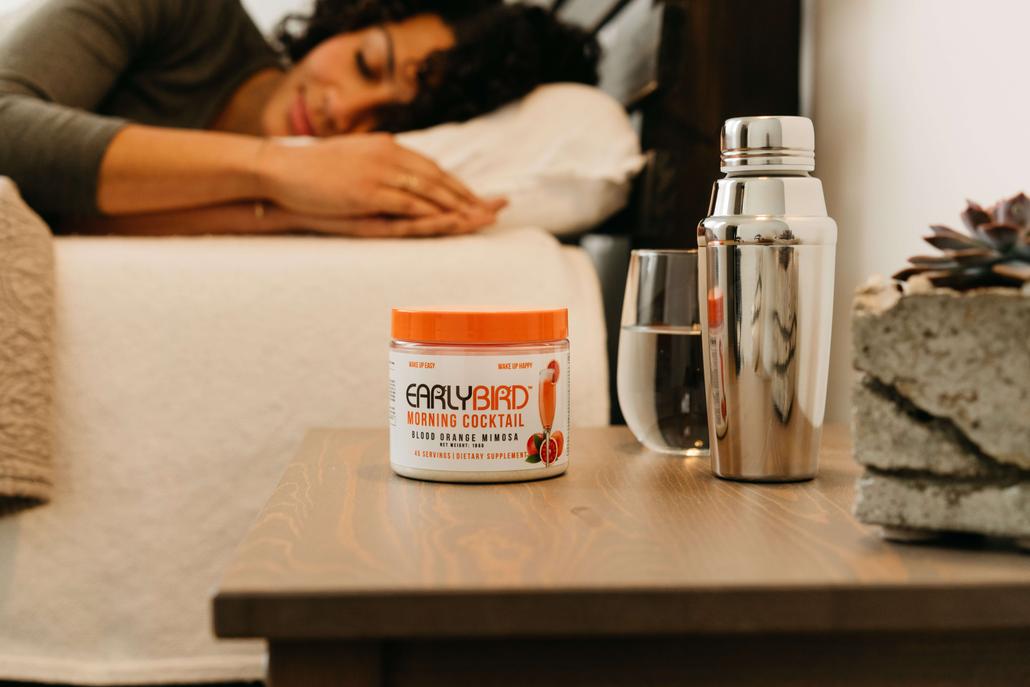 How to Turn Waking Up Early Into a Habit As A Deep Sleeper
I'm a heavy sleeper myself and have been waking up early (before 6 AM) every morning for the last year. 
I used to sleep in late and hated waking up early for school. I'd often show up late or skip class altogether, and when I did make it to school, I was drowsy all day long. 
Waking up early and being productive seemed awesome in my head but was much harder to actually do in practice. 
I tried everything from using a wake-up light to setting my alarm across the room to drinking water in the morning. 
And while these things did help, ultimately I kept slipping back into my old ways.
Eventually, I decided to learn more about how important it is to form strong habits and break bad ones.
You are defined by your habits and your habits are defined by who you are. 
For example, someone who is healthy exercises a lot, and someone who exercises a lot is healthy. 
Someone who is productive wakes up early, and someone who wakes up early is productive. 
You have to learn how to turn waking up early into a habit, rather than making it a chore and trying to force yourself to wake up early. 
In this article, we're going to take a closer look at habit forming so you too can form an early morning routine that actually works, even if you're a heavy sleeper. 
These insights are paraphrased from the book Atomic Habits by James Clear, the BEST book on habit-forming your money can buy. 
I highly recommend you read the book if you haven't already, as it will not only help you wake up early every morning as a heavy sleeper but also form other good habits/break bad ones too.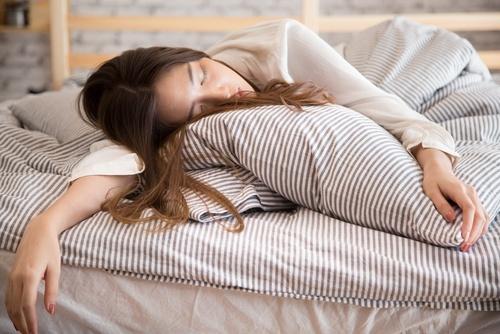 Why Are Habits Important?
There's something called the 1% rule, and it basically goes as follows:
Tiny, 1% improvements compounded over time will yield a massive improvement in even just one year, while at the same time 1% declines will quickly make you deteriorate to 0 in the same amount of time. 
When you sleep in every morning, the number of hours wasted that you could have used for something productive. Even if it's just 1 hour a day (waking up at 9 AM instead of 10 AM) over the course of a year is 365 hours. 
That's an extra 15 days you could have spent in the gym, studying, working on your business, etc. And that's just one hour earlier. 
If you woke up at 6 AM instead, you'd have even more time. Those who wake up earlier can get weeks, if not months, of extra productive time. 
But you can't force yourself to wake up early, you have to want to wake up early and more importantly, you have to make it a habit.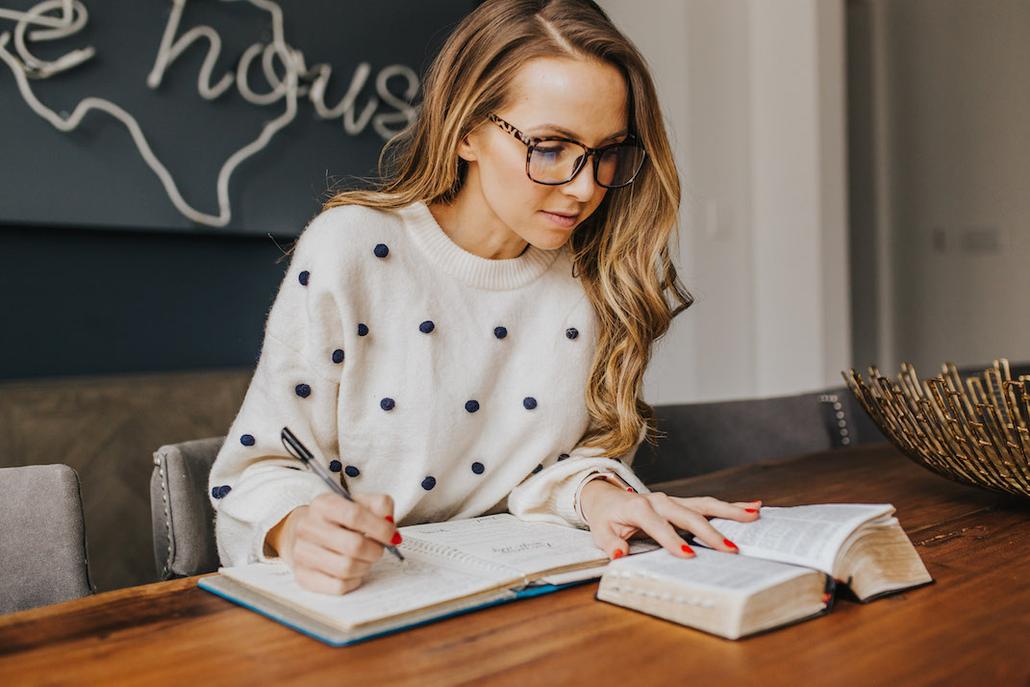 4 Steps to Form a New Habit
Ever tried to form a new habit and it lasted for a day before you stopped? 

Or tried to break a bad habit? That's even harder. 
There are four keys to starting or stopping any habit, and they're inverses of one another. 
Since we're talking about waking up early as a heavy sleeper, we're only going to cover starting a new habit - however, if you want to stop a habit, you can flip these four principles around, do the opposite, and it will work.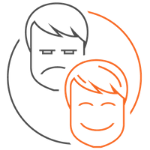 Queue, Craving, Response, Reward
Every habit follows the pattern in the title - starting with a queue, which is something that triggers a craving.
For example, a smoker addicted to cigarettes may start craving a smoke if he sees someone else smoking, or smells cigarette smoke in the air.
The sight, or smell, is the queue that triggers the craving. Stress can also trigger a craving in this example. 
Once the smoker craves a cigarette, they respond by reaching into their pocket to pull out a cigarette of their own, and they're rewarded by the dopamine (the feel-good chemical) that floods their brain as they smoke. 
This cycle repeats itself over and over, each time making the habit stronger than the last until they become severely addicted to cigarettes. 
Your phone's notifications are another example of a common queue, which triggers a craving (you want to check your phone). You respond by reaching for your phone, and you're rewarded by the little hit of dopamine from someone liking a picture, sending you a text, etc. 
The above examples illustrate how bad habits are formed, but you can use the same principles to your advantage if you want to form a good habit.
If you make the new habit obvious (right in front of you), attractive (you'll crave it), easy (you don't want to make it hard to form the new habit), and rewarding (so the habit pleases you) then you're sure to form the new habit in no time.
For the heavy sleepers out there, here's how you can finally wake up early without feeling tired.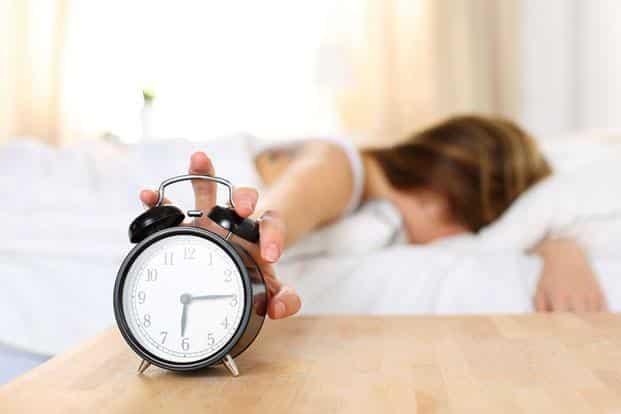 How to Turn Waking Up Early Into a Habit 
Using the principles above, we can turn waking up early into a habit, even if you're a heavy sleeper. 
1. Make It Obvious 
First, you need to make waking up early the obvious choice - in other words, you're making the queue obvious which triggers the craving.  

When I first started waking up early, I wrote about why I wanted to wake up early. You have to start with why or you'll surely lose your motivation. 
Then, I pinned that note above my bed so I'd see it every morning when I woke up, reminding my tired, unmotivated self why I was doing it in the first place.
In addition to my note, I have a "vision board" with images of everything I want to achieve professionally, personally and otherwise, so I can visualize my motivation for waking up every morning. 
You also need to make the exact times you'll go to bed and wake up, obvious. Most of the time people don't form habits, not due to a lack of motivation but a lack of clarity.
Waking up early isn't a habit. But going to bed at 9:50 PM and waking up at 6:30 AM is a habit. 
Make your habit obvious and it becomes far easier to accomplish it.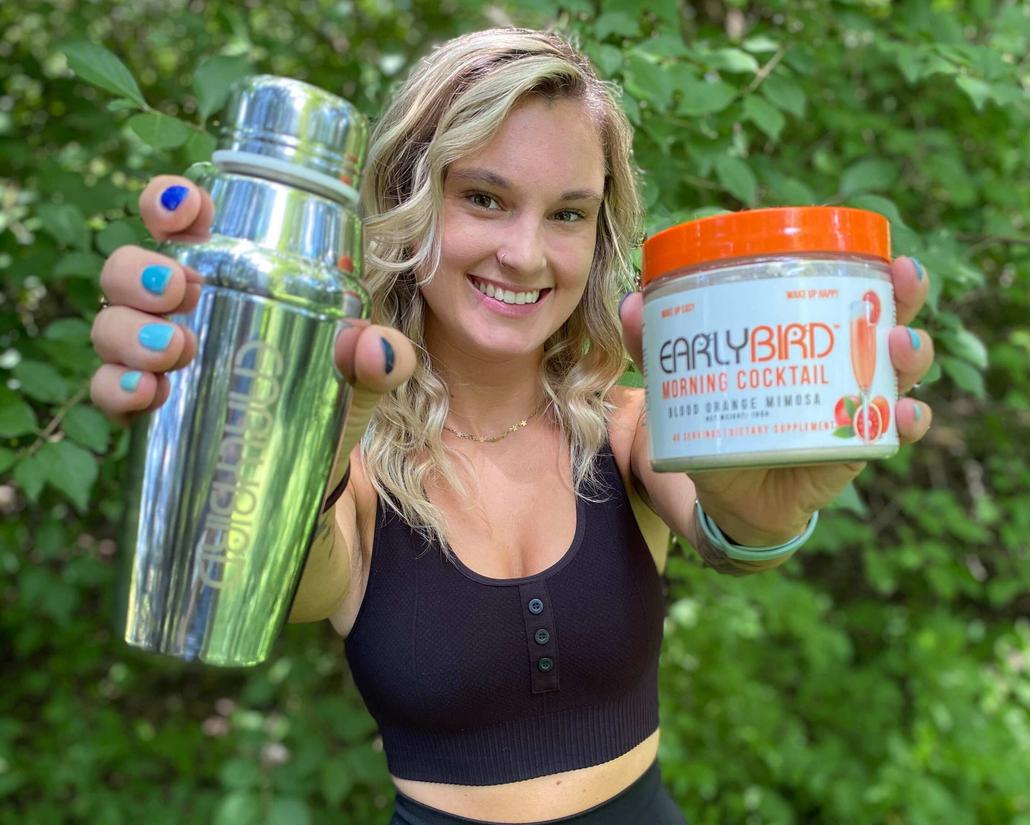 2. Make It Attractive
What makes you want to say hello to a new girl or guy in a bar? They're attractive.
We do things that are attractive to us and avoid things that aren't appealing. Waking up early may not seem appealing, which is why people tend to avoid it.
But having more money, more time to accomplish your goals, more control over your day, are all attractive things.
Focus on the reason why you're waking up early as a heavy sleeper, not the act itself. 
Even better, you can make waking up early attractive by giving yourself something to look forward to in the morning. 
You can leave yourself an irresistible treat the night before that you can look forward to in the morning. It'll make waking up more attractive because you know you have that treat waiting for you.

For example, I like to leave my EarlyBird Morning Cocktail on my nightstand before bed. Even though it has zero calories and sugar, it tastes great, and I know I'm starting my morning off with everything I need to have a great day.
EarlyBird hydrates you, gives you energy, and makes you feel great, so it's the perfect treat every morning. In fact, it wasn't until I started incorporating EarlyBird into my morning routine that I was finally able to wake up early as a heavy sleeper. 
If you want to read the full story behind EarlyBird, click here.
Discover the
"

Cheat Code

"

to Waking Up Early

The EarlyBird Morning Cocktail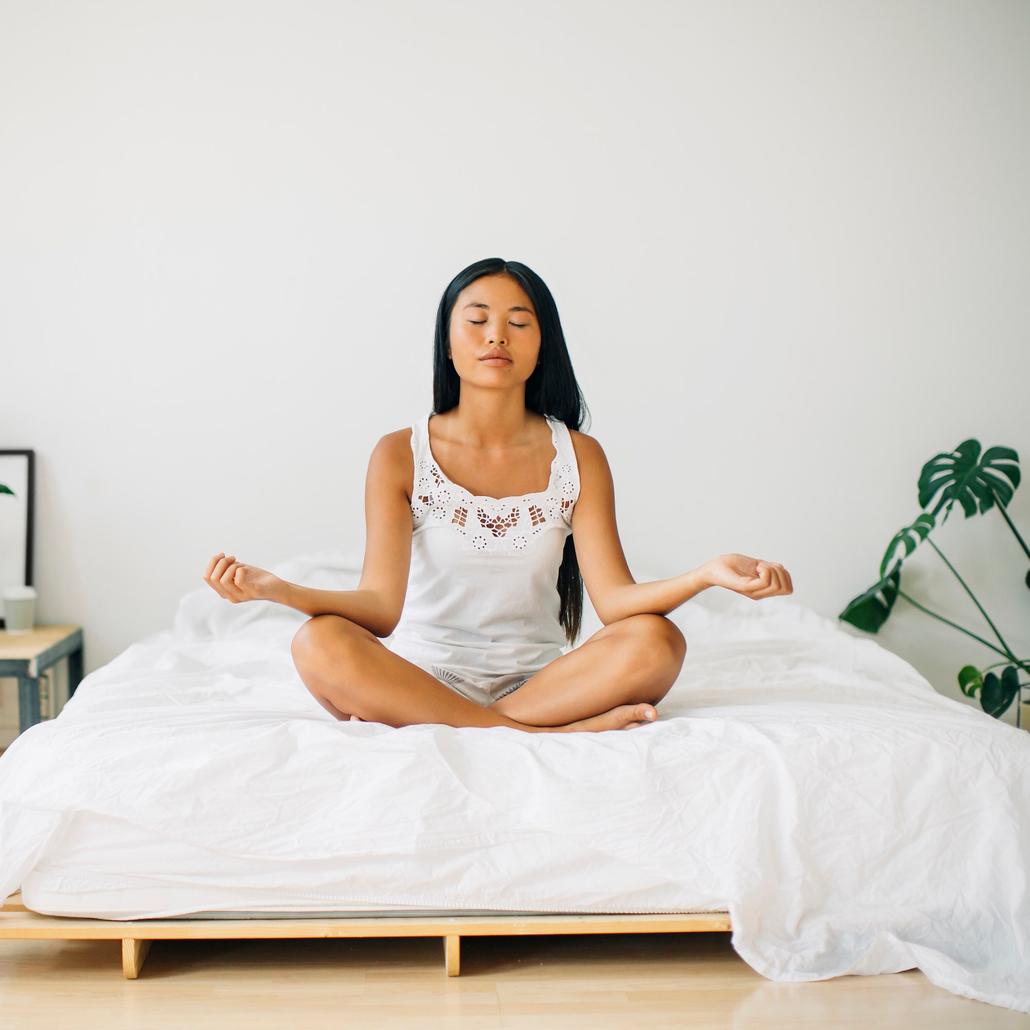 3. Make It Easy
Humans often take the path of least resistance. It's much easier to eat candy and cheeseburgers than it is to go to the gym, and it's easier to play video games than to do your homework. 
Going back to the 1% rule mentioned above, one of them gives you short term pleasure and long-term suffering (a burger tastes great but over 20 years, eating too many burgers will have a negative impact on your health) while the other is hard upfront but will pay off in the long run (doing your homework sucks but you'll get into a better college, get better grades, get a better job, etc.) 
Making it hard to wake up in the morning is going to impede your progress, which is why you need to do everything you can to make it as easy as possible. 
For example, you shouldn't leave the cold air on overnight because when you wake up, you'll want to stay in your warm bed. Instead, turn the heat on so you can comfortably get out of bed in the morning without wanting to stay under the covers. 
You can also leave things laying out the night before. For starters, don't leave your alarm next to your bed, or in your bed if you use your phone. That makes it way too easy to wake up, turn off your alarm and go back to bed. 
Instead, set it across the room, which makes it easier for you to wake up and get out of bed to turn it off.
Next, you can leave your clothes laying out in front of you the night before, so you can put them on first thing in the morning. Now, instead of having to dig through your drawers to find the right outfit which causes friction, you can mindlessly put your clothes on, making it easier to start your day.
But you still don't have energy in the morning without giving your brain and body exactly what they need. Trying to jumpstart your body awake is like trying to start a car that's been sitting out in the cold all night. Not a good idea. 
If you are serious about waking up early as a heavy sleeper, and you want to make your mornings truly easy, you can drink the EarlyBird morning cocktail. Mix it up before you go to sleep, and leave it next to your alarm clock.
In the morning, turn off your alarm, shake, and drink! You'll be ready to start the day. 
Click here to learn more about EarlyBird and how you can get your hands on it while supplies last!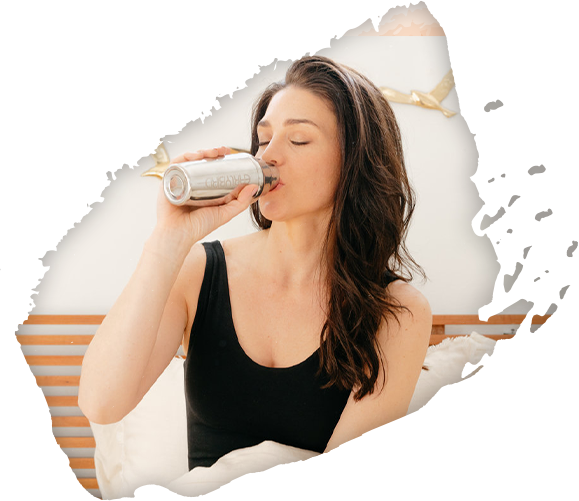 4. Make It Rewarding 
Things that pay off, in the long run, aren't usually rewarding in the moment, and things that are bad for you in the moment generally give you an instant reward (for example, the cigarette smoking example above.)
The same is true of waking up early, even as a deep sleeper - it's not rewarding in the moment, but imagine how rewarding it will be after several years of waking up early and being productive?
In order to do that, however, you need to make the habit rewarding in the moment as well. You can do that by clicking here to order EarlyBird and drink it in the morning, but there are other ways to make the habit rewarding as well. 
For example, you can leave a jar of marbles on your desk, with 90 red marbles and 10 black marbles, mixed up. Every morning when you wake up early, grab a marble from the jar. Each time you grab a black marble, treat yourself to 30 minutes of video games, some ice cream, or anything else that will be rewarding to you. 
This way, you can associate waking up early with the reward, instead of it being hard. You want the habit to be rewarding, much like cigarettes are rewarding to smokers, except in this case, the habit is healthy. 
If you want to use EarlyBird as your morning reward, click here to order your first tub.  
How Do You Wake Up Early If You Are a Deep Sleeper?
As a deep sleeper myself, I've definitely missed my fair share of classes because I overslept, and it's not a good feeling. 
Getting up when you have an obligation is hard enough, but when you want to get up early on your own, it's even harder.
That being said, I've tried hundreds of different strategies, and in this section, I want to share with you the best tips and tricks I've learned over the years that have turned me into an early riser.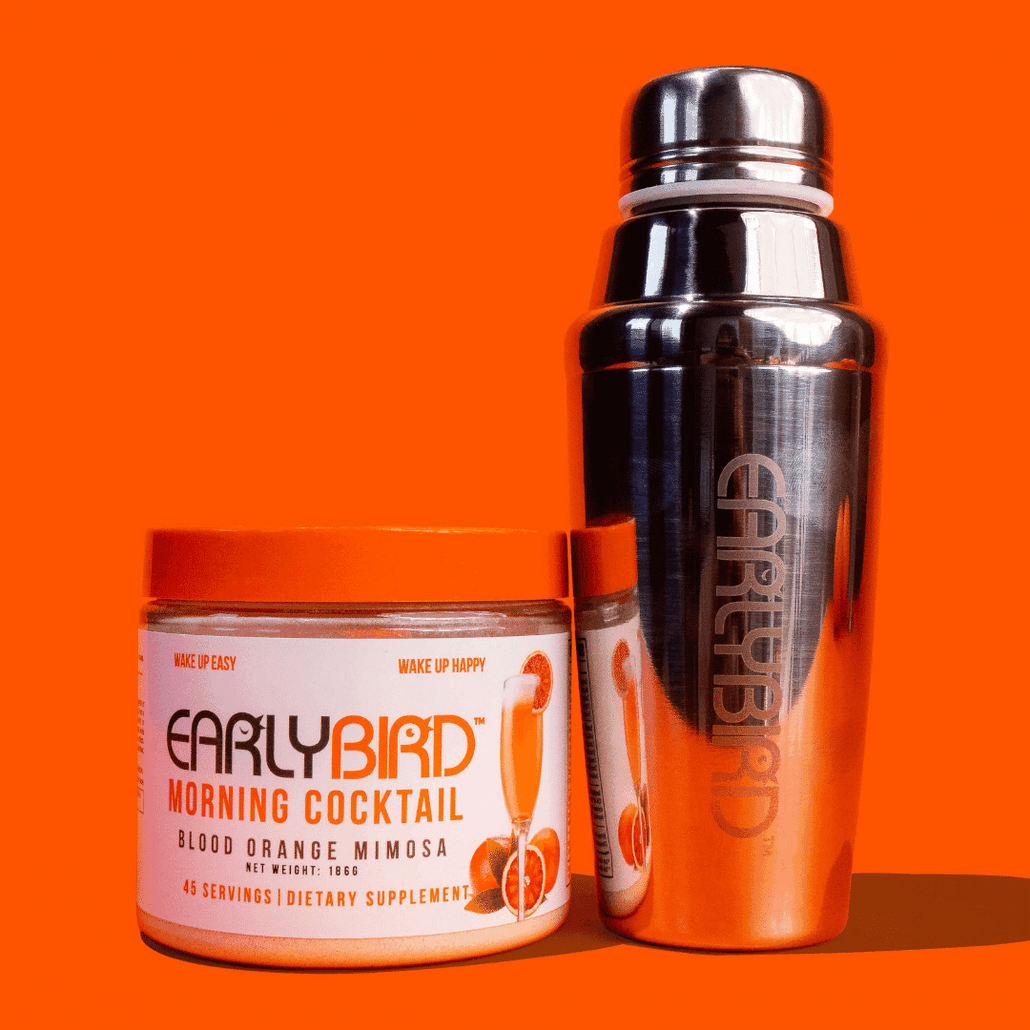 EarlyBird
EarlyBird is the ultimate hack I can recommend anyone - if you want to wake up early but have not been able to in the past, you need EarlyBird. It will change the game, and maybe even your life. 
All of the tips below helped, but it wasn't until EarlyBird was incorporated into my morning routine that I was able to finally wake up early consistently and get sh*t done. 
EarlyBird is a refreshing treat in the morning, and it has everything your brain/body needs to wake up early feeling great and full of energy, motivated to tackle the day.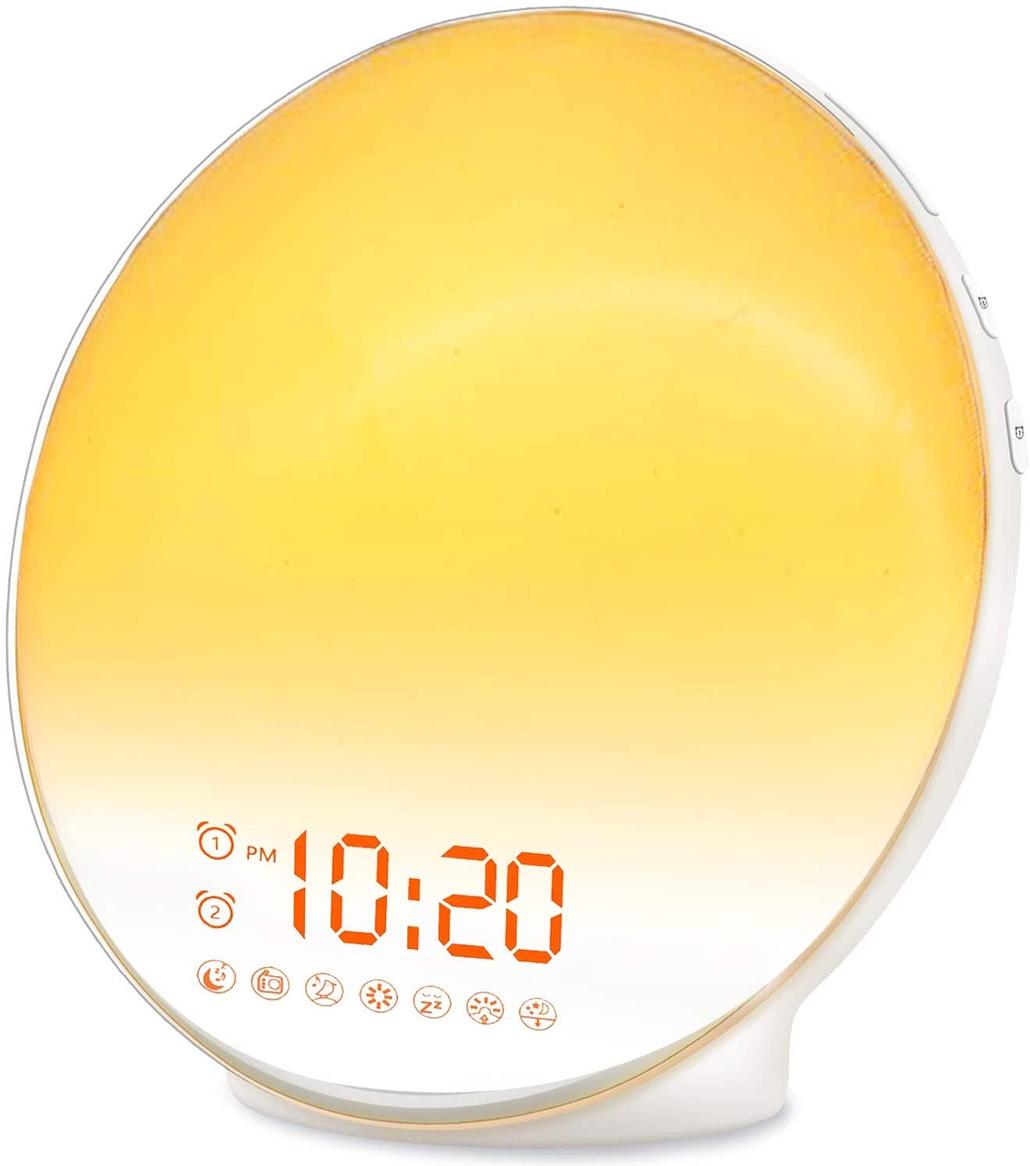 Alarms for Heavy Sleepers
Using a special alarm helps me wake up in the morning. I have a wakeup light alarm that slowly gets brighter over the course of 30 minutes, simulating a sunrise and telling my body it's time to wake up. That usually does the trick.
But if I'm still not awake, I have a backup alarm that shakes my bed with a vibrating motor under my mattress, to make sure I wake up. 
Both alarms are set across the room as well, so when I do finally wake up, I have to get out of bed to turn them off, with the lights on. Then I drink my EarlyBird, get dressed, and I'm ready to start the day. 
It's working really well!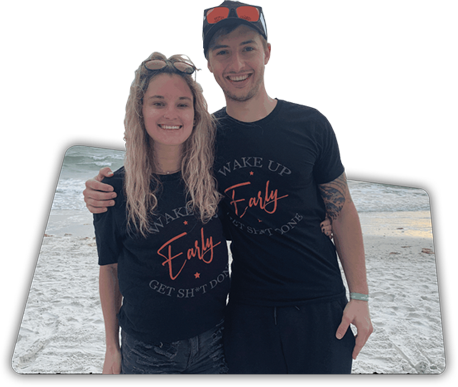 Accountability 
Trying to start or stop a habit without any accountability is a disaster waiting to happen. It's easy for the evil inside to convince you to have another smoke or sleep in late again. 
But if you have someone else holding you accountable, you can leverage the power of peer pressure to stay on track. 
Ask someone else in your house who wakes up early to make sure you're awake - it can be a sibling, parent, spouse, etc. 
Or you can have one of your friends call you in the morning to make sure you're up.
Along with an accountability partner, you need to hold yourself accountable by tracking your progress. Every morning that you wake up on time, use a habit tracker (this can be a calendar) to keep a record of your progress. 
It helps to visualize how much progress you're actually making, and your accountability partner can look at it too.
Slow & Steady 
Trying to go from a 10 AM wake-up routine to a 6 AM wake-up routine in one night is a disaster waiting to happen. Making it easy is a big part of the 5 steps of behavior change, so keep that in mind when adjusting your sleep schedule.
When I was changing my sleep schedule, I tried waking up at 6 off the bat and it failed miserably.
After that, I set my alarm 10 minutes earlier every night and it got to the point where I was waking up at 6 AM and falling asleep at 10 PM every night, without noticing much of a change. 
You can apply the same strategy by setting your alarm 5, 10, 15, or 20 minutes earlier each night until you've reached your wake-up time goal. 
Make a Commitment 
Waking up early for yourself is harder than waking up early for someone else because when you have a prior commitment that requires you to rise early, the fear of being late makes it much easier to wake up. 
For example, when I schedule time in the morning for sales prospecting (something I do without anyone else) it's much harder for me to get out of bed. In the past, I'd schedule 3 hours for prospecting but I'd only end up prospecting for an hour because I decided to sleep in late. 
Conversely, when I book sales meetings in the morning, I'm forced to wake up early to attend the meeting - if I sleep in, I won't make the sale and my company will look bad.
You can make commitments in the morning when you're getting used to waking up early, and then remove them from your schedule and replace it with things you actually want to do in the morning, like journaling, exercise, etc.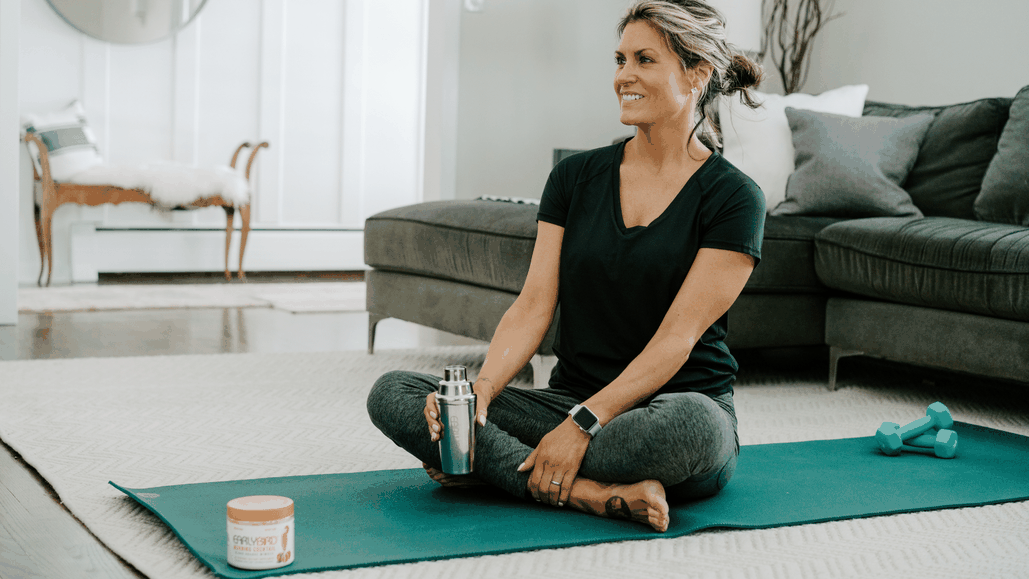 Waking Up Early The Easy Way vs. The Hard Way 
It wasn't until I started drinking EarlyBird in the mornings that I was able to finally wake up early and be way more productive, every morning, without fail. 
It's something to look forward to every morning, and it makes waking up early easy, both of which are important if you want to form a new habit. 
EarlyBird has everything your brain and body need to wake up early and get stuff done, because it's backed by 3 powerful formulas that all work together to help you feel great in the morning.
It's basically a cheat code for waking up early. 
Before EarlyBird, I couldn't handle waking up early. I hated mornings more than anything. 
But once I started drinking EarlyBird in the morning, everything changed. All of a sudden, waking up early became effortless. It was like a productivity cheat code. 
It's not a normal "energy drink" - it's a morning cocktail that's made with healthy nootropic blends designed to give your brain everything it needs to wake up and your body the energy it needs to get moving. 
EarlyBird gives you:
Energy
Mood boost
Hydration 
Zero crash
Zero calories
Zero sugar 
If you're interested in finally being productive in the mornings, click here to discover the 3 secrets to waking up early!