EarlyBird Morning Cocktail
$89.00
$67.00
You save:

$22.00 USD

(24.72%)
EarlyBird Morning Cocktail
$89.00
$67.00
You save:

$22.00 USD

(24.72%)
Product Description
Description
Join Club EarlyBird Today and Receive:
 1) EarlyBird Morning Cocktail Tub (45 servings)
 2) FREE EarlyBird Cocktail Shaker Cup
Our signature 10 oz shaker makes the perfect Morning Cocktail, every time
Shakes & blends for maximum flavor
Easy-pour design lets you enjoy your EarlyBird straight from the shaker
Screw-on lid to prevent any leaks
 3) FREE E-Book- The Perfect Morning Routine
Habit #1:

The best way to get a mental edge over any competition (it's not easy, but so worth it!

Habit #2

: The exact stretching routine to do every morning that drastically increases mobility in less than 15 min

Habit #3

: Discover the journaling technique that relieves all stress and puts you in a "get sh*t done" mentality!

Habit #4:

The movement routine that easily get's your blood flowing

3 Bonus Habits

giving you the ability to create your own personalized Perfect Morning Routine
 4) We'll Pay Shipping (Priority Mail)
EarlyBird Packages
1 Tub Package
$89 $67
​
​ 1 tub - 2 Month Supply*
​ FREE Cocktail Shaker Cup
​ FREE Blueprint- "The Perfect Morning Routine"
​ ​ FREE Shipping & Handling
2 Tub Package
$178 $97
​ 2 tubs - 4 Month Supply*
​ FREE Cocktail Shaker Cup
FREE Blueprint- "The Perfect Morning Routine"
FREE Shipping & Handling
4 Tub Package
$356 $177
(That's $48 per tub!)
​
​ 4 tubs - 8 Month Supply*
​ 2 FREE Cocktail Shaker Cups
​ FREE Blueprint- "The Perfect Morning Routine"
​ ​FREE Shipping & Handling
The 3 Blends That Make
EarlyBird

Work
Supercharged Hydration Blend
Our specially formulated, high-quality electrolytes deliver the hydration your body needs to function optimally. It's literally like drinking supercharged water.
Clean Energy Blend
A unique blend of green coffee bean extract, a patented antioxidant blend of over 25 fruits and veggie extracts, L-theanine, and GABA. This blend quickly eliminates the impulse to hit snooze and fills your morning with energy (without the crash).
Be Happy Blend
The powerful combination of patented nootropics, Ashwagandha, Theobromine, and Neurofactor gives you the ability to move through your morning with smiles and motivation.
See What Other
EarlyBirds

Are Saying

"I've never had anything that tastes this good." -Brittney

"I woke up with EarlyBird this morning and I feel amazing!"- Shelby

"Boosted, happy mood, just all around focus!"- Adam
Customer Reviews
08/02/2020
Kevin S.
United States
What I've been looking for!
I've been using the Earlybird Cocktail plus some of the recommended routines during the week and I've been getting out of bed ready to take on the day. I've been able to get up consistently by 6:30am without dragging or hitting snooze. I've been getting in my workout routine before work instead of skipping it in favor of an extra 20 minutes of sleep. It really is a life changer. This week, I'm gonna try and push back to 6am instead and get even more sh*t done!
07/31/2020
Dave W.
United States
Love it
It works use it every morning best stuff ever , works amazing, taste amazing ! I get plenty of S... done ✅
07/31/2020
Angie L.
United States
Really loving it!!
I'm a nurse anesthetist and I've been waking up at 4am and exercising before I go to work for a year now. I have been looking for something to help me get a little "jump" start in my energy level and I am beyond thrilled that I found Club Early Bird!! It's exactly what I've been needing!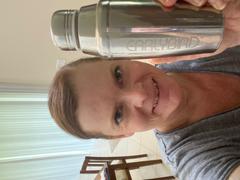 07/29/2020
Dana H.
United States
game changer
I wake up tired every morning regardless of how many sleep hours I log. This has helped me rebound within five mins and the more I use it the more my body craves they hydration first thing. I will be buying again
07/29/2020
Collin R.
United States
That second cup of coffee feeling
You know how the first cup of coffee does all the work? You're not yourself until you've had it. But early bird kicks you into gear immediately. It's true as advertised and I'm glad to have it!